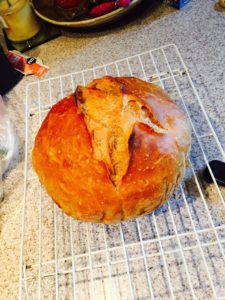 The "No Knead Bread," by Jim Lahey. This can be used for so many other dishes. I have made pizza dough, samosas, calzones, olive and rosemary bread with this recipe. There are so many variations of the "No Knead Bread" out there. The one I am using is the first recipe I tried and stuck with.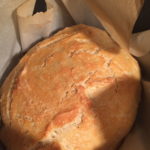 Print
No Knead Bread
Ingredients
3

Cups

all purpose flour

(I prefer unbleached all purpose flour)

1

tsp.

active dry yeast

1 1/2

tsp.

salt

1 1/2

cups

warm to hot water
Instructions
Mix together all dry ingredients in a glass bowl then slowly add water. The dough should be very sticky.

When it is all mixed together cover the bowl with plastic wrap and stick the bowl in a corner and ignore it for 18 hours.

After 18 hours wet your hands a little and lift the dough up in the bowl and deflate it. Then rewrap with plastic wrap again and let the dough rise for 2 more hours.

With 1 hour left to rise, place your dutch oven, with lid on, in the oven at 450 degrees, place your parchment paper inside the dutch oven before you heat it up. Heat up the pot for 1 hour. Then carefully remove pot from the oven and remove the lid leaving parchment paper inside.

Wet your hands and remove the dough from the glass bowl and place it carefully into the heated dutch oven and cover with the lid. Place the dutch oven into the preheated oven and bake for 30 minutes. Then remove the lid and bake for 15 more minutes to get the bread golden brown.

Remove bread from dutch oven and let cool. Enjoy!