I made my shell from the Jim Lahey "No Knead Bread" recipe. One batch of the dough will make 11 shells for the Potato Samosa. I found this recipe from food.com "(The Best) Vegetarian/Vegan Vegetable Samosas." Which had been adjusted from, "Madhur Jaffrey's World-of-the-East Vegetarian Cooking."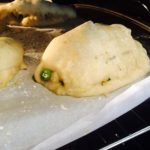 Print
Potato Samosas
Ingredients
5

medium sized Potatoes

I use yellow potatoes and cut into cubes with skin.

1

diced medium sized yellow onion

1

cup

frozen peas

1

Tbsp

grated ginger

I use 1 tsp of powder ginger when I don't have ginger root.

3

Tbsp

finely minced cilantro

1

tsp

curry powder

1 1/2

tsp

salt
Instructions
Place potatoes into a sauce pan. Fill water just above the potatoes. Bring the water to a boil cooking the potatoes until tender.

Sauté diced onion using water instead of oil. Add your seasonings to the onion while you are sautéing.

when the potatoes are tender add your frozen peas then drain immediately

in a separate bowl add all ingredients together and mash the potato mixture with a masher.

Preheat the oven to 425 degrees

Pull out your baking sheet and line it with parchment paper

Take your dough into 11 equal parts and start making small round disks on your baking sheet.( the dough is sticky so wet your hands to help stretch it on the parchment paper) In the center of the dough spoon out a good amount of your potato filling.

Fold over your dough and pinch or fork the edges.

Place Samosas in the oven and bake for 15-20 minutes, until crust is golden.

Follow the " No Knead Bread" recipe for the shell. You don't need to let the dough rise for 18 hours. I usually go 6 to 8 hours on the dough with only letting it rise 1 time.